The EU's Green Deal and its Circular Economy Action Plan, Industrial Strategy, Data Strategy, and Zero Pollution Ambition will impact the full value chain of businesses operating on EU markets – covering due diligence, eco-design, recycling, waste treatment, substances of concern, industrial clustering, emissions, and water use to name a few. The textiles sector will be directly impacted.
Cambre's Circular Policy Scans take an in-depth look at how EU legislation affects your business activities and where your key opportunities lie: from targets to bans, with phase-outs and exemptions in between.
For a snapshot of what's next for the textiles sector, check out our infographic on the Circular Economy Action Plan and textiles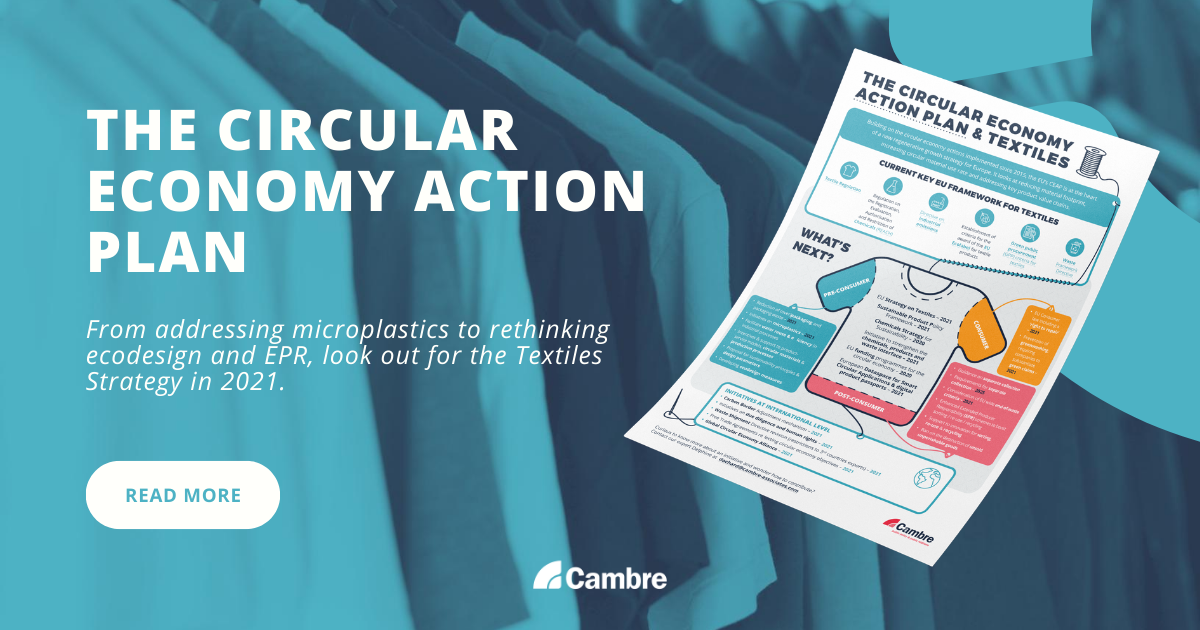 How we work
Cambre's Circular Policy Scans are tailored to the specific needs of your business. Working with policy consultants from a range of specialisations, our workshops will help you better understand how EU policies and regulations can affect your products and activities and assess how the EU's policy direction measures against your business objectives.
What we cover (non-exhaustive list)
We select the legislation according to your specific business model or products, looking at e.g.:
Circular Economy Action Plan
Textiles Strategy
Sustainable Product Framework
Zero-pollution Ambition
EU Climate Law
Chemicals Strategy for Sustainability
Industrial Strategy
Data Strategy
EU Green Deal
Waste Framework Directive
Plastics Strategy
Chemicals legislation
Waste Shipment Regulation
EU Taxonomy Regulation
Green Public Procurement
Ecodesign & Ecolabeling requirements
Due diligence initiatives
SCIP database on Substances of Very High Concern
Initiatives to strengthen the interface between chemicals, products and waste
Our Package
The Circular Workshop is split in three modules:
Policy scan: Based on a detailed discussion of your business activities & objectives we will run a full scan of EU legislation which can impact your operations (kick-off meeting/ call followed by detailed policy audit & report).
Strategy workshop: We will dive deeper into each piece of legislation identified to measure threats and opportunities and assess where your priorities lie (half-day workshop followed by analytical report with heatmap).
Action plan: We will identify strategic objectives for engagement at EU level, along with key decision-makers, potential alliances, policy milestones and messages (full engagement plan for one year).
Interested in knowing more? Don't hesitate to get in touch with our team of experts: